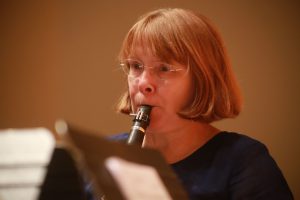 Shannon Scott is Associate Professor of Clarinet and Music History and clarinetist for Solstice
Wind Quintet at Washington State University School of Music. In the summers Scott teaches and performs as orchestral, chamber and solo musician as principal clarinet of the Eastern Music Festival in North Carolina.  As part of the Scott/Garrison Duo with flutist Leonard Garrison, Scott is active in commissioning and performing new music for the ensemble, and is heard on four Scott-Garrison Duo CDs of flute/clarinet repertoire released by Albany Records.  She is principal clarinet of the Walla Walla Symphony and has also performed with the Spokane and Washington-Idaho Symphonies.
Shannon taught clarinet and Survey of Music in Fall 2006 and performed with the Northwest
Winds Woodwind Quintet at the University of Idaho. From 1988 to 2006 she served as principal clarinetist of the Tulsa Opera and the Tulsa Philharmonic Orchestra While in Tulsa Shannon taught clarinet at the University of Tulsa, Northeastern State University and Tulsa Community College.  She is proud of her four years teaching elementary music, art and math at the Mayo Demonstration School of Science and Technology in the Tulsa Public Schools from 2002 to 2006.
Shannon holds degrees from Juilliard, Ecole Normale de Musique de Paris, Conservatoire Regional Marcel Dupre, Yale University and Northwestern University. Her major clarinet teachers were Robert Marcellus, Keith Wilson and Stanley Drucker.  Before joining the Tulsa Philharmonic she was associate principal clarinet of the Orchestra of the Opera of Lyon, second clarinet for the Grant Park Symphony in Chicago, and played in the Marlboro Music Festival, where she participated in Music from Marlboro tours and recorded for the Marlboro Recording Society.
YouTube videos:
Libby Larson Barn Dances from CD Barn Dances, Albany Records :
Daniel Dorff Two Cats from CD Perennials, Albany Records :
Daniel Dorff  Zoe & Xena :
Watch her teach: https://www.youtube.com/user/wsuclarinet